So, in case anyone is ever interested in the equipment I've got in my lab. I figured I would put it in a centralized place that I can point people to.
It's broken into two sections, The currently owned stuff, and the stuff I really want.
Currently Owned
Everything in this list I currently own and use regularly.
Streaming Setup
Test / Inspection / Programming
2x Agilent N5540A 2-Slot Protocol Analyzer Chassis

Agilent N5315A PCIe 1.0/2.0 x8 Interposer
2x Agilent N5306A PCIe 1.0/2.0 x8 Protocol Analyzer
Agilent E2947-66408 E2947A PCIe 1.0 x8 Interposer
Agilent N5305A PCIe 1.0 Protocol Analyzer
Agilent N5305A PCIe 1.0 Protocol Exerciser

Unbranded USB UART/TTL Serial Adapter
Unbranded Cheap Desoldering hand pump
Soldering / Assembly
Various Hand Tools
Preferred Consumables (Tape, Solder, Flux, etc.)
Heavily Used Software
This list is by no means comprehensive, I've forgotten to add things and won't unless reminded.
Photography
My current photography equipment
Current Setup
Here is an image of the current setup in case anyone was curious.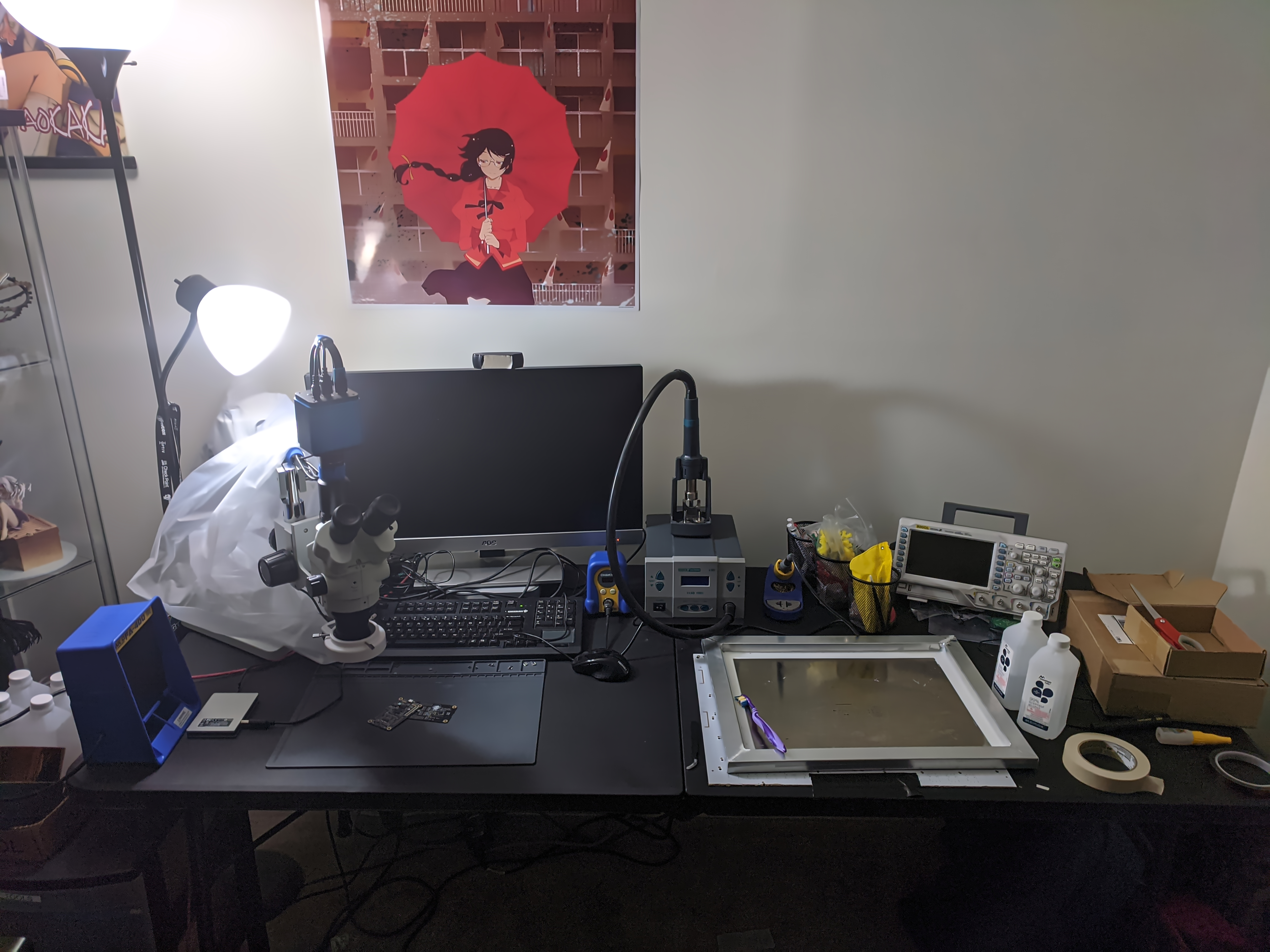 Wishlist
The following list is things I really want, but can't justify or afford, but really want, a girl can dream, alright?
Accessories For Things I already have
Test / Measurement
Any 5GHz+ Oscilloscope for PCI-Express tomfoolery
PCI-Express passive interposer probe card & DAQ
Big Expensive Things
These things cost multiples of thousands of dollars, and are very heavy and big.
Neoden S1 Pick & Place Machine

10 x 8mm Feeders
10 x 12mm Feeders
5 x 16mm Feeders
2 x 24mm Feeders
2 x Vibration Feeders
1 x All nozzles

A scanning electron microscope of some kind